Media Lab
Think Up. Make Up. Dream up.
Explore your inner musician with our electric guitar, keyboard, microphone and GarageBand. Produce exciting videos with our video camera, tripod, green screen and iMovie. If photography is your passion, you will enjoy full access to Adobe Creative Cloud, including programs like Photoshop and Lightroom. You can also transfer your VHS tapes DVD and print posters on our high-quality, large-format printer ($5 per linear foot).

Appointments
To use the Media Lab, e-mail your appointment request to bremenpubliclibrary@gmail.com at least one week in advance to allow for staff scheduling. Patrons who are 17 years old or younger must have a signed parental agreement on file in order to use the lab outside of open lab hours.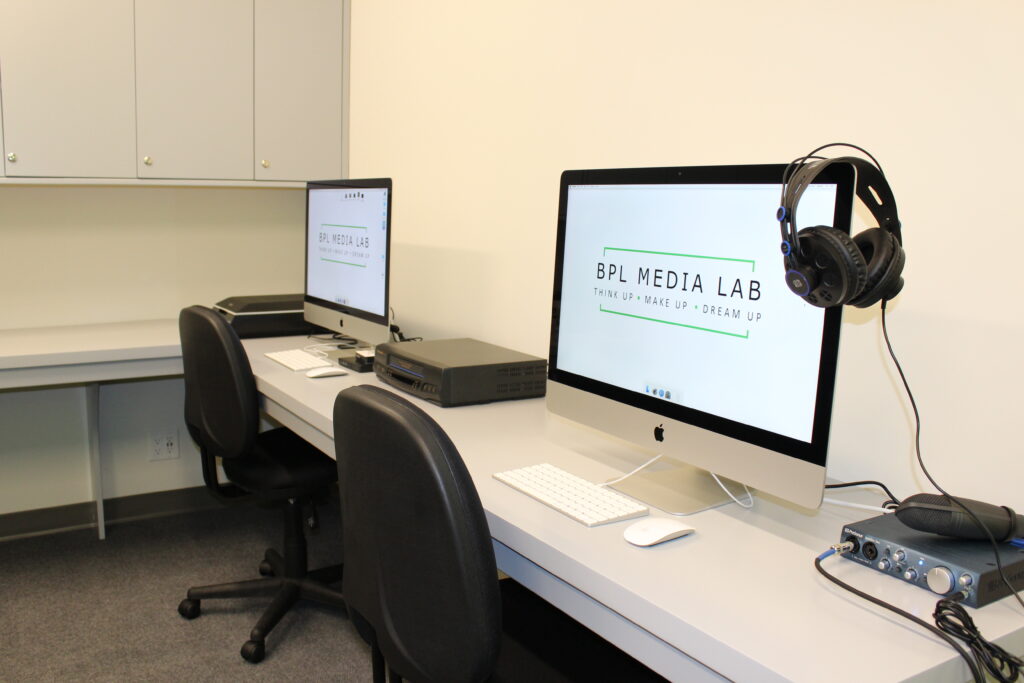 Audio Recording and Editing
The Complete Recording Studio features an Apple Mac mini Core i5 1.4GHz computer with 4GB of RAM and a 500GB hard drive (MGEM2LL/A), and all of the hardware and software you need to write, compose and record your music from start to finish. With the power of Pro Tools First, Ableton Live Lite, GarageBand, and a collection of top-brand plug-ins from Focusrite, Softube and Avid including compressors, equalizers, effects, guitar effects, instruments, modeling software, vocal processing and synths, you have all the creative control you need to sculpt your music without limits.
Video Production
Use our green screen, digital cameras, tripod and software to create Hollywood-style trailers and stunning movies.
Apple iMovie – Video editing
Adobe Premiere Pro – Video production and editing
Adobe After Effects CC – Cinematic visual effects and motion graphics
Adobe Audition CC – Audio recording, mixing, and restoration
Photography and Graphics
Adobe Creative Cloud will help take you from blank page to brilliant design. World-class design tools give you everything you need to make anything you can dream up. Design logos, posters, brochures, ads, and more. Combine images to make incredible artwork.
Photoshop – Image editing and compositing
Illustrator – Vector graphics and illustration
InDesign – Page design and layout for print and digital publishing
InCopy – Professional word processor
Digital Preservation
Videotapes can deteriorate over time: Your old videos will have color bleed, white specks, and other distortions. Don't risk this happening to your home video collection! Save your precious memories. VIDBOX — a powerful and effortless video conversion solution is the answer. Capture old VHS, Beta, 8mm, or camcorder tapes and convert to digital formats.
Poster Printer
Produce rich, consistent gallery-quality color and black-and-white prints with the easy-to-use 12-ink HP DesignJet Z3200 Photo Printer. Achieve color reliability with HP Professional PANTONE® color emulation and Adobe® Postscript®/PDF support. Cost is $5 per linear foot with a 24" maximum width. For example, a 24″x36″ poster would cost $15.
Policies and Waivers